Club Penguin's annual Coins For Change and the Holiday Party are now here!
Party Features
When you first log in Rockhopper will appear and talk to you.
Ahoy! It be time for cheer and charity. Donate to Coins for Change and earn coins by doing holiday traditions!



The traditions from the previous Merry Walrus Party are available here too! These traditions earn you coins too! You can throw ornaments on the tree at the Forest.
...Toss food into the food drive boxes at the Beach.
...And ring the bells at the Plaza.
Donation stations can be found at places around the island. You can donate 100 coins, 1,000 coins, and 10,000 coins, and as many times as you would like. Every bit counts! Proceeds from any items purchased from the Penguin Style and the Furniture & Igloo Catalog will also go towards Coins For Change.
You can unlock stamps for donating coins, and also obtain the CFC 2015 Pin.
Members can adopt blue crystal puffles and snowman puffles, and also transform into Frostbites!
Rockhopper and his ship the Migrator are also back for the holidays.
You can play the holiday edition of Treasure Hunter in the Captain's Quarters.
Here are some of the decorated rooms, which usually aren't decorated.
The Dance Club:
The Ski Hill:
Items
Santa's sleigh has also returned to the Dance Lounge. You can help Santa deliver presents and earn an item as a reward, which is returned so you may already have it.
You can also have your penguin's picture taken and obtain a free background at the Puffle Lodge.
Since Rockhopper is back he has some items for his Rare Items Catalog. The Green Jolly Roger is a free item available for everyone.
Miscellaneous
Here are the party exclusive emotes.
Rockhopper is back so check out meetup times with him
here
.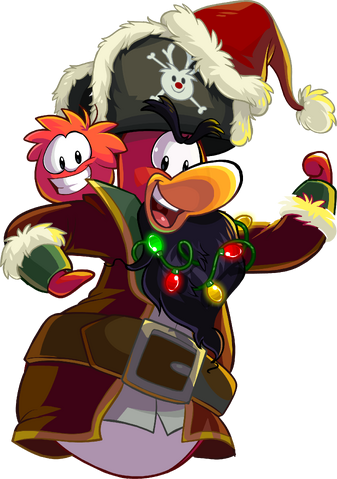 What do you think of this year's Holiday Party? Make sure you check out the party yourslf and get in the holiday mood!